Wanda's Picks Radio Nov. 23, 2011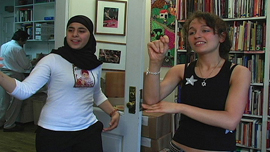 We will speak to the directors of
Sarabah
, Maria Luisa Gambale; and Judy Lieff, dir.
Deaf Jam
, one live, one prerecorded (smile).
In Lieff's
Deaf Jam
, Aneta Brodski seizes the day. She is a deaf teen introduced to American Sign Language (ASL) Poetry, who then boldly enters the spoken word slam scene. In a wondrous twist, Aneta, an Israeli immigrant living in the Queens section of New York City, eventually meets Tahani, a hearing Palestinian slam poet. The two women embark on a collaboration-performance duet - creating a new form of slam poetry that speaks to both the hearing and the Deaf.
Sarabah
,
Hip Hop in West Africa
?
A woman DJ Sister Fa
?
This wonderful film takes its audience on a whirlwind tour as we get trapped in the vortex of Sister Fa's life. We enter the theatre thinking we're here for a concert, after all, the story of the first Senegalese woman DJ is pretty hot, then without missing a beat once we pass go, Sister Fa falls in love, gets married, moves to Germany, has a daugher--we then find out that she is a victim of genital cutting (FGM) as her art becomes a tool for the movement she joins to address and stop this practice which is dangerous and harmful.
Between taping sessions Fa finds her voice once again in a foreign country as she prepares for a tour to change the world for her child and other children like her.
The wonderful footage and deeply personal tale dir. by Maria Luisa Gambale and Gloria Bremertakes this viewer completely by surprise. I kept thinking the film was over as we rounded yet another thematic corner. Sarabah is about an orphaned daughter, her father, the extended family and traditions that we need to let go. "Sarabah," is a daydream, it is the mythical place that Fatou visited as a child when she missed her mother and father and wanted a safe place to retreat. Sister Fa takes her "Education Without Excision," which uses her music and persuasive powers to end the practice to her own village of Thionck Essyl in 2010 where she receives a wonderful surprise. The film,
Sarabah
, captures that mystical, magical and scary journey.
Recently Sister Fa won the
Freedom To Create
main prize in Cape Town, South Africa. She is the first female winner. "SARABAH" was screened the 1st of November at the Move IT! Filmfestival in Dresden, Germany.
The 60 minute film is in English, French, German, Wolof and Diola with English subtitles and premiered at the Mill Valley Film Festival. Visit http://www.sisterfa.com/ & siterfadocumentary.com
Photos: Poets, Anetta & Tahani from DEAF JAM; Sister Fa from SARABAH